By Dave Lemkay
Herb Shaw and Sons Ltd. is purported to be the oldest continuously operated family lumber business in Canada. It's unlikely that there's anyone around who can dispute that.
On December 12, a cold but bright, sunny day, Ontario Premiere Doug Ford, Energy Minister Todd Smith, Natural Resources and Forestry Minister Graydon Smith and Rob Berardi, V.P., Shared Services & Broadband Strategy of Hydro One visited the Shaw Lumber Company pole yard to help commemorate the company's milestone. Renfrew, Nipissing, Pembroke MPP and Parliamentary Assistant to the Premier John Yakabuski proudly welcomed his colleagues to the riding, as each spoke to the assembled crowd of Renfrew County sawmillers and other forest sector representatives.
Collectively, they addressed the vital role that Herb Shaw and Sons or Shaw Lumber Company has played for decades with its consistent supply pine products and specifically of red pine poles to the maintenance and upgrading of Ontario Hydro infrastructure.
Premier Ford paid tribute to Shaws for running a successful family business through so many generations and noted that they play an important role not only locally with employment in sustainable forest management but in the underpinning of the energy grid across Ontario. He jokingly made reference to the 175 year history as being about the time John Yakabuski was first elected, eliciting laughter from the crowd.
Energy Minister Todd Smith stated that Hydro One purchased 20,000 utility poles this year and is committed to purchasing 25,000 poles in the coming year. The Ontario Government, in its pledge to Ontarians to develop widespread Broadband accessibility, depends on companies like Shaw Lumber to build a more resilient and reliable energy grid in the province.
Quoting the Eganville Leader newspaper account of the proceedings, Rob Berardi, the vice president of Shared Services and Broadband Strategy for Hydro One, noted "Ontario businesses, like Shaw's, are the backbone of the economy. He said they create jobs and attract investment to the region, as well as providing important goods and services. The demand for clean electricity is expected to grow significantly over the next decade."
"Timely and strategic investments are being made to benefit customers into the future. That includes continuing to purchase quality wooden utility poles to renew our ageing infrastructure, The expansion of hydro is not possible without the forestry sector. The material used to manufacture the utility poles we install come from the company that is hosting us today, Herb Shaw and Sons."
Shaw family members present were Herb Shaw, retired Pembroke lawyer and the elder statesman now of the family, President John (V), Vice-President Dana Shaw and General Manager, sixth generation, Kristin Shaw, who spoke on behalf of the family and firm. In her presentation, she outlined the longstanding activity of the Shaw family with the arrival of John Remick Shaw (the First) from Inverness Scotland to Lake Dore in 1847. There, on the Snake River, he erected a water-powered grist mill and sawmill. Ms. Shaw concluded her outline of the family business by saying "we treat people well and we hope that common sense prevails. When private industry succeeds, people in Ontario succeed. Success is made on the backs of people who know how to work and are not afraid to do it".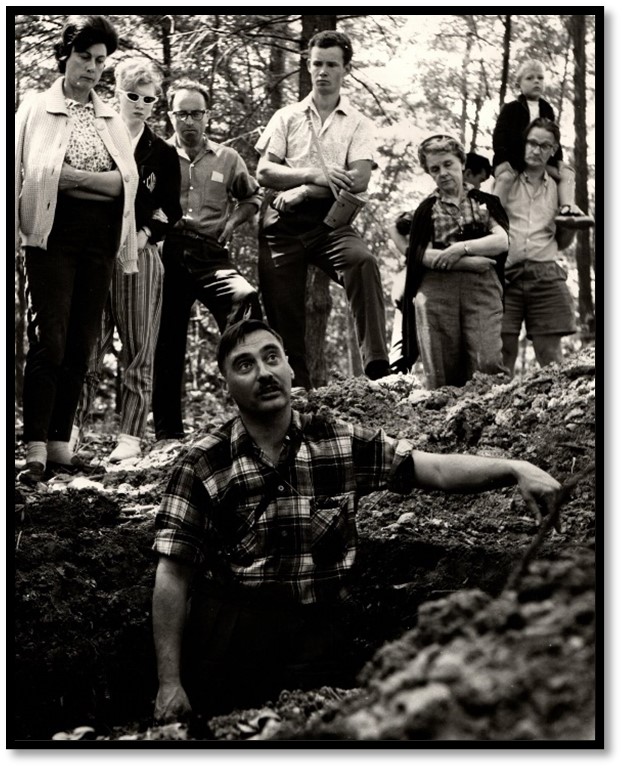 Cousins John and Dana Shaw, Premier Doug Ford, Herb Shaw at Shaw Lumber Company pole yard
Photo Credit: Eganville Leader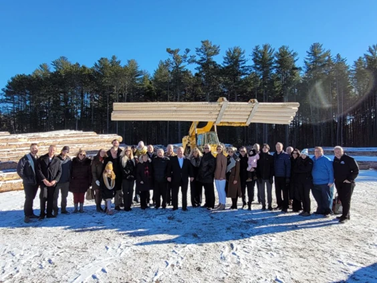 Extended Shaw family members with Premier Doug Ford, Minister of Energy Todd Smith, Graydon Smith, Minister of Natural Resources and Forestry, Hydro One VP Rob Berardi and MPP John Yakabuski at the Shaw Lumber Company pole yard in Pembroke.
Photo Credit: Pembroke Observer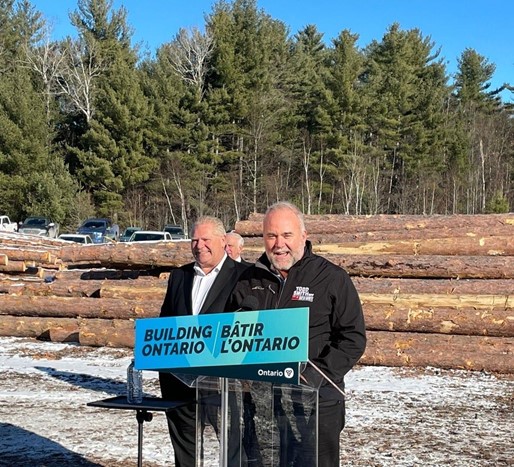 Energy Minister Todd Smith speaking alongside Premier Doug Ford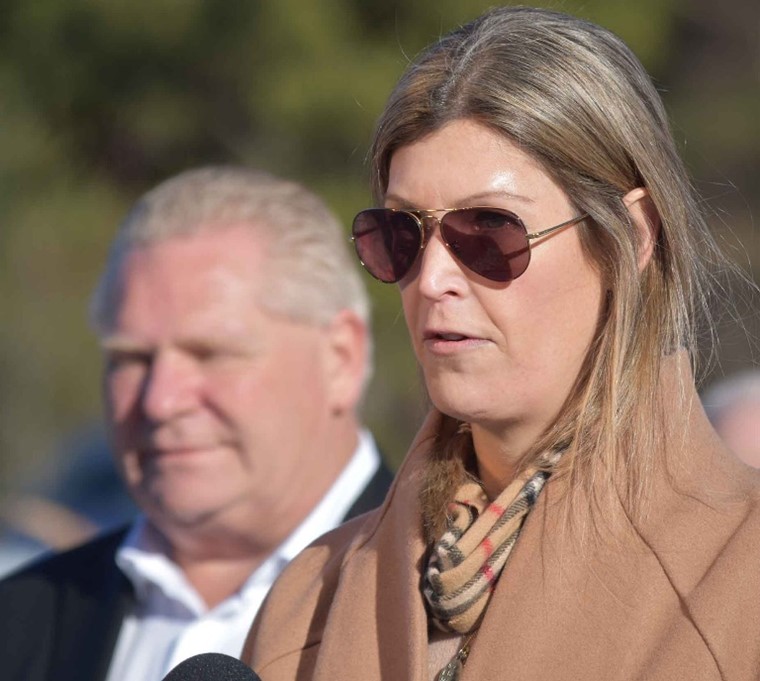 Shaw Lumber Company General Manager Kirstin Shaw
Photo Credits Eganville Leader
After all the years, this original homestead property is the home now of the Shaw Woods Outdoor Education Centre that hosts over 4,000 students each school year as well as hundreds of others who take the opportunity to walk the many trails to observe the interpretive signage in this natural 50 hectare undisturbed forest estate. The objective of this operation is to offer hands-on educational programming and self-directed learning opportunities that foster environmental stewardship based on the tenets of sustainable forest management. The Shaw Lumber Company so successfully demonstrates the ethic of these environmental, social and economic values with its balanced approach to forest management over all these years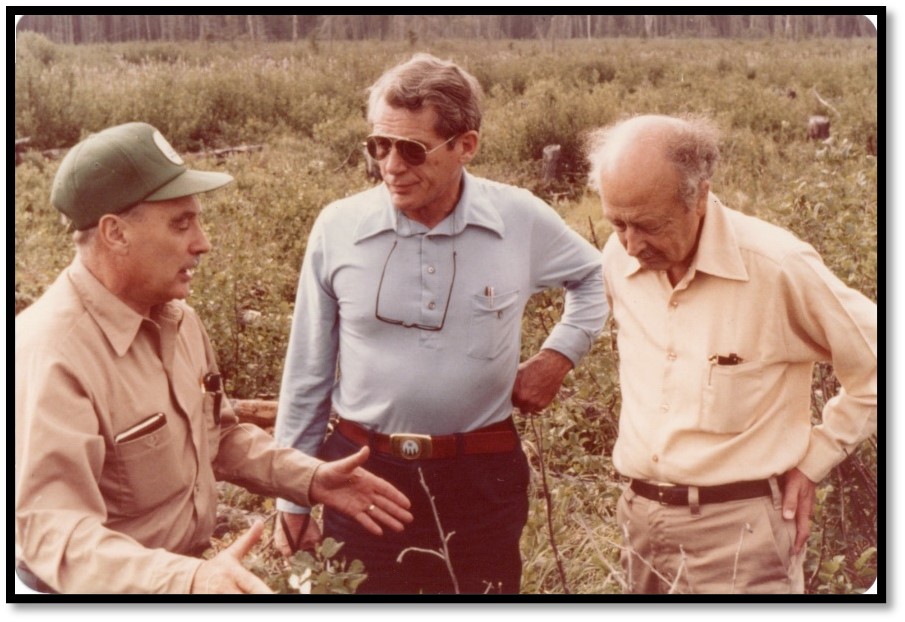 Premier Ford and entourage visiting the Shaw Woods Outdoor Education Centre at Lake Dore
L to R: Parliamentary Assistant Ric Bresee, Minister Graydon Smith, Premier Ford, Dana Shaw, MPP John Yakabuski, Instructor Shannon Devonish, James Brose, Mayor NAW Township, Jennifer Murphy Mayor Bonnechere Valley Twp., Shaw Woods Board Co-Chair Steve Boland and Mike Nolan, Renfrew County Chief Paramedic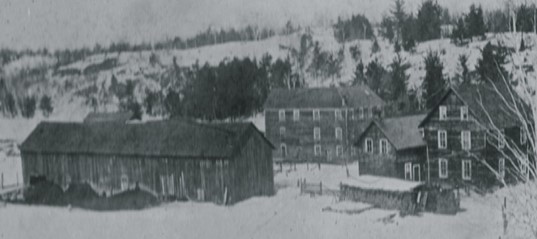 Early view of the Shaw Homestead at Lake Dore